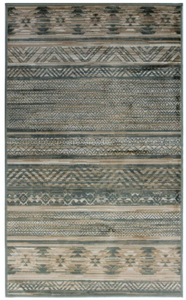 A Prairie Sky bestseller for many years, these small rugs are based on traditional designs from around the world. The original antique rugs were scanned, and then printed, as opposed to hand tied/woven. They clean up easily (perfect for pet lovers!) and can even be tossed in the washing machine and dryer.
These ethically sourced rugs are made in Belgium of 100% Viscose.

Approximately 2.25 ft x 3.5 ft 
Sorry, no shipping available.