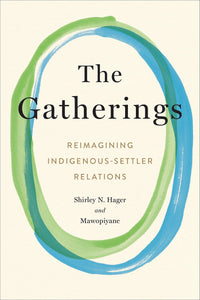 In a world that requires knowledge and wisdom to address developing crises around us, The Gatherings shows how Indigenous and non-Indigenous peoples can come together to create meaningful and lasting relationships.
Thirty years ago, in Wabanaki territory – a region encompassing the state of Maine and the Canadian Maritimes – a group of Indigenous and non-Indigenous individuals came together to explore some of the most pressing questions at the heart of Truth and Healing efforts in the United States and Canada. Meeting over several years in long-weekend gatherings, in a Wabanaki-led traditional Council format, assumptions were challenged, perspectives upended, and stereotypes shattered. Alliances and friendships were formed that endure to this day.
The Gatherings tells the moving story of these meetings in the words of both Indigenous and non-Indigenous participants. Reuniting to reflect on how their lives were changed by their experiences and how they continue to be impacted by them, the participants share the valuable lessons they learned.
The many voices represented in The Gatherings offer insights and strategies that can inform change at the individual, group, and systems levels. These voices affirm that authentic relationships between Indigenous and non-Indigenous peoples – with their attendant anxieties, guilt, anger, embarrassments, and, with time, even laughter and mutual affection – are key to our shared futures here in North America. Now, more than ever, it is critical that we come together to reimagine.
Mawopiyane
Gwen Bear
The Reverend Shirley Bowen
Alma H. Brooks/Zapawey-kwey
gkisedtanamoogk
JoAnn Hughes
Debbie Leighton
Barb Martin
Miigam'agan
T. Dana Mitchell
Wayne A. Newell
Betty Peterson
Marilyn Keyes Roper
Wesley Rothermel
Afterword by Dr. Frances Hancock
To reflect the collaborative nature of this project, the word Mawopiyane is used to describe the full group of co-authors. Mawopiyane, in Passamaquoddy, literally means "let us sit together," but the deeper meaning is of a group coming together, as in the longhouse, to struggle with a sensitive or divisive issue – but one with a very desirable outcome. It is a healing word and one that is recognizable in all Wabanaki languages.
Publisher ‏ : ‎

 

Aevo UTP (April 6 2021)

Hardcover ‏ : ‎

 

304 pages

ISBN-13 ‏ : ‎

 

978-1487508951