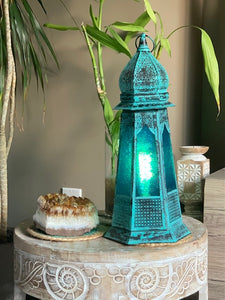 Inspired by traditional Moroccan design this handcrafted exotic lantern can be placed indoors in any living space. When lit provides peaceful glow!

Our supplier is a skilled artisan who runs a small business from home in North India. He has team of 8 Artisans who specialize in creating particular designs making each one of them irreplaceable. They are the HEART of our story!

* Fair Trade by heart by hand * Handcrafted of Iron metal * Size : 22H x 10"W * Made in India * Care : Wipe clean with a damp cloth. If using candles do not insert electrical. Do not leave burning candles unattended. CAUTION - May become hot after use.
Sorry, no shipping available.