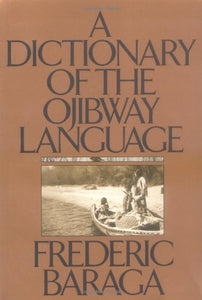 The language of the Ojibway people was recorded by Frederic Baraga (1797-1868), a missionary priest from Slovenia, who was sent in 1835 by the Catholic church to serve among the Ojibway living in the Lake Superior region.
The multilingual Baraga quickly learned the Ojibway language and over many years worked within the community to produce a dictionary, a grammar and religious literature.
In 1853 the first edition of A Dictionary of Otchipwe Language Explained in English was published. A revised edition of this Ojibway-English/English-Ojibway dictionary followed in 1878 and is the version now reprinted.
More than a hundred years later, this dictionary remains a classic and the most useful for a wide range of dialects. It is an important cultural and linguistic source for historians, anthropologists, linguists, ethnologists, and all students interested in the Ojibway language.
Publisher ‏ : ‎

Minnesota Historical Society Press; 1st edition (Nov. 15 1992)

Paperback ‏ : ‎

442 pages

ISBN-13 ‏ : ‎

978-0873512817