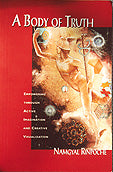 Edited by Rab Wilkie, Leslie Hamson and K. Chime Wongmo
A rich collection of over ninety creative, meditative exercises presented in universal terms relevant to all beings. The exercises utilize both eastern and western forms of unfoldment and include a new approach to kasina and mandala work, sacred geometry, colour, space and archetypal explorations, balancing the cerebral hemispheres, healing, and many other themes of integration.
Some of the exercises involve working with clay, drawing or painting - although artistic ability is not required to do them or to reap benefit from them.
While developing awareness of inner and outer aspects of being, the exercises effortlessly evoke well-being and insight. Enjoyable as well as engrossing, an invaluable resource for all ages.
Paperback, 96 pages.