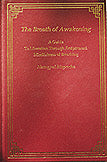 An excellent meditation manual on one of the most important practices for the cultivation of calm, insight-knowledge and deliverance. Rinpoche's commentary shows the way this classic practice unfolds naturally, how it leads to complete liberation and how we may practise it simply and profoundly.
His teaching also elucidates aspects of meditation that can be applied to any practice; these include preparation, posture, what might occur, what to look for, obstacles to overcome, the factors of enlightenment, signs of progress, how to review and, of course, the transcendental.
Paperback, 98 pages.