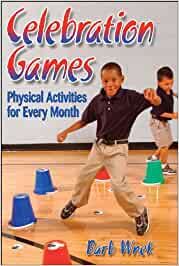 Make every day a cause for celebration with Celebration Games! This book provides a calendar year's worth of fun games and activities—all designed to get 5- to 12-year-olds excited about physical activity. Included are 68 physical fitness activities, skills, games, and rhythm and dance activities, each based on a specific holiday or seasonal theme.
Whether it's Valentine's Day, St. Patrick's Day, Cinco de Mayo, or Kwanzaa, every occasion offers a new opportunity to build a child's knowledge of health and wellness. Innovative yet easy to implement, the activities use common equipment and supplies and may be adapted easily to various grade or skill levels. In addition to teaching kids important health concepts, you'll also uncover opportunities to tie in lessons on history and diversity. Ideas for family events are also included to get everyone involved.
For more than 25 years, author Barb Wnek has strived to foster healthy attitudes in children. Now, she brings you the same creative ideas that won her acclaim as one of Dole's Creative 5 A Day Teachers of the Year. Based on decades of testing in summer camps and public schools, Celebration Games makes teaching fun for both you and your kids by turning every activity into a special event.
Paperback, 184 pages