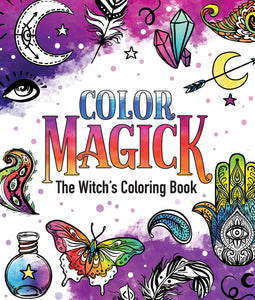 The first colouring book for witches, with inspiring magickal art
Whether you're a hedge witch, a green witch, or a witch who defies all labels, this transcendent collection lets you celebrate all things mystical, magickal, natural, and inspiring. With more than 60 unique illustrations from full moons and natural herbs to healing crystals, you can turn colouring into a satisfying daily ritual, adding peace to your life and making room for magickal thoughts. Clear your mind, set bold intentions, craft new spells, and showcase your independent spirit with Color Magick.
- Enjoy a mystical collection of more than 60 images honouring the spirit and practice of witchcraft
- Take a creative and reflective pause so you can set intentions and manifest change in your life
- Celebrate your love of nature and the ancient tradition of witchcraft
- Flaunt your creative powers and celebrate your craft with this enchanting colouring book!