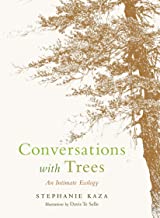 From a pioneering thinker in the field of religion and ecology, a collection of evocative meditations on the beauty, fragility, and resilience of trees. Included are twenty-seven original lithographs of the trees profiled in each chapter.

First published in 1993, Stephanie Kaza's heartfelt book helped thousands of readers kindle a sense of spiritual connection through communing with our ancient relatives - trees. Shambhala Publications is proud to reissue this book, with a beautiful new cover and a new Introduction by the author. More pertinent now than ever, Kaza's intimate exploration of the lives and relationships of individual trees exemplifies the conjunction of inquiry and emotion, of science and spirituality. In an era of species extinction and worsening climate change, this book is a warm and earnest invitation to personal and ecological sanity.
Paperback, 288 pages.