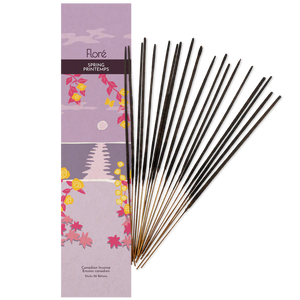 Clean. Bright. Fresh. 
We have been releasing a different spring blend since 2021. This year our limited edition spring incense is a bright citrus-wood blend. 
Sweet lemon mixed with spicy bergamot creates fresh, fruity notes, combined with cedar for a cool, woody base. This sunny blend will brighten any room with a refreshing burst of fragrance.
Handmade in small batches for a limited time only.
Each pack of Flore incense comes with 20 sticks, each one with a burn time of 45-60 minutes. Do not burn unattended. 
Floré incense has been handcrafted in Toronto since 1982. 
They use the finest essential oils.
All fragrances and oils are vegan and not tested on animals.