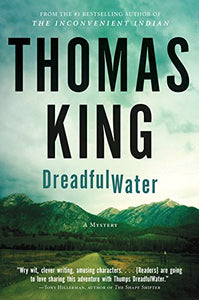 The award-winning, bestselling author of The Back of the Turtle and The Inconvenient Indianmasters the comic mystery novel in this series opener, starring ex-cop Thumps DreadfulWater
Thumps DreadfulWater is a Cherokee ex-cop trying to make a living as a photographer in the small town of Chinook, somewhere in the northwestern United States. But he doesn't count on snapping shots of a dead body languishing in a newly completed luxury condo resort built by the local Indian band. It's a mystery that Thumps can't help getting involved in, especially when he realizes the number one suspect is Stick Merchant, anti-condo protester and wayward son of Claire Merchant, head of the tribal council and DreadfulWater's sometimes lover. Smart and savvy, blessed with a killer dry wit and a penchant for self-deprecating humour, DreadfulWater just can't manage to shed his California cop skin. Before long, he is deeply entangled in the mystery and has his work cut out for him.
A novel that will appeal to mystery fans as well as Thomas King's loyal audience, DreadfulWater Shows Up is a catchy, clever read.
Publisher: ‎Harper Perennial (Oct. 24, 2017)
Paperback: 448 pages
ISBN-13:‎ ‎ 978-1443455374