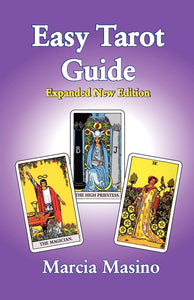 The mystery and the appeal of a tarot deck have fascinated people for centuries. In this book, accomplished tarot scholar Marcia Masino reveals her insights into the rich symbolism and the meanings of the cards, while also offering solid instruction in all aspects of tarot reading and practice.
Her clear and easy-to-follow style of instruction involves the reader immediately, and encourages the blending of thinking and intuition. She follows each section with quizzes for self-testing of comprehension, involving each reader in the process, right from the beginning, and this is a good reason why this book on tarot, first published in 1987, has remained consistently popular through numerous printings.
Now, in this Expanded New Edition, Marcia has substantially added to her very valuable question and answer section that addresses the many questions she has received from students over the years. She also presents an entirely new and unique chapter blending tarot with yoga, with instructions for twenty-two Meditation Postures created by her friend Carolyn Olive, each posture corresponding to a Major Arcana card.
Marcia then interprets each posture for how one can utilize it to awaken its archetypal energy for soul purpose and gifts of the spirit. Within this book, you have a wealth of information on all aspects of tarot, taught in a manner that is easy to assimilate, just as its title promises!
Paperback, 372 pages
Expanded new edition, 2011