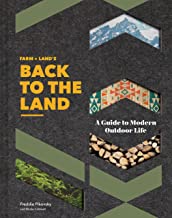 FARM + LAND'S Back to the Land: A Modern Guide to Outdoor Life
 is a collection of stories about slow living, sustainability, and the value of doing things with your own two hands.

This gorgeous book features remarkable narratives, essential how-tos, and hundreds of breathtaking photographs from people who have embraced lives of adventure in wild places.

With gorgeous photography, engaging stories, practical tips,and useful illustrations, this book offers an escape into a world of simple pleasures, contentment, and a rural way of life.

• Focuses on the back-to-the-land movement
• A visually driven celebration of cozy homes and wild landscapes
• Embraces life's simple and enduring pleasures

FARM + LAND'S Back to the Land: A Modern Guide to Outdoor Life features places like a spectacular treehouse suspended above a lush forest, a cozy cabin perched on a mountainside, and a small farm growing heirloom vegetables in the high desert.

This book is a must-have for outdoor enthusiasts and anyone who has ever dreamed of escaping to a simpler way of life.

• Delivered in a highly giftable and handsome volume that inspires feelings of wanderlust
• The perfect gift for Father's Day and the holidays, as well as for outdoors enthusiasts, travel lovers, camping fans, and readers of Dwell, Modern Farmer, and Kinfolk
• Great for fans of Cabin Porn: Inspiration for Your Quiet Place Somewhere by Zach Klein and Steven Leckart, Norwegian Wood: Chopping, Stacking, and Drying Wood the Scandinavian Way by Lars Mytting, and The Kaufmann Mercantile Guide: How to Split Wood, Shuck an Oyster, and Master Other Simple Pleasures by Alexandra Redgrave and Jessica Hundley
Hardcover, 272 pages.