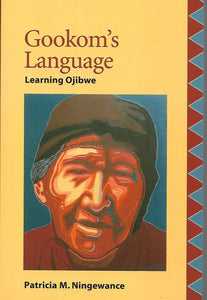 Ojibwe is also known as Saulteaux and Chippewa and is very similar to Algonquin. The people themselves call it Anishinaabemowin, and it is still spoken in central North America. Use this book to learn the language.
Each lesson has vocabulary, dialogues and grammatical explanations. Short stories are added in later lessons. A two-way glossary at the back contains useful vocabulary, expressions and placenames from Canada and the USA.
"Talking Gookom's Language" by Patricia M. Ningewance is a 400-page Ojibwe language textbook. It is suitable for grades 7-12 and university-level study, or for the casual learner.

Mazinaate Inc.(March 1, 2017)

Paperback: 365 pages

ISBN-13 ‏ : ‎

978-0993966347