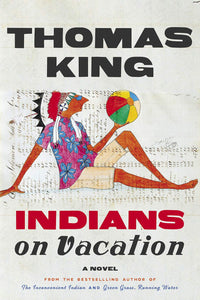 Meet Bird and Mimi in this brilliant new novel from one of Canada's foremost authors. Inspired by a handful of old postcards sent by Uncle Leroy nearly a hundred years earlier, Bird and Mimi attempt to trace Mimi's long-lost uncle and the family medicine bundle he took with him to Europe.
 "I'm sweaty and sticky. My ears are still popping from the descent into Vaclav Havel. My sinuses ache. My stomach is upset. My mouth is a sewer. I roll over and bury my face in a pillow. Mimi snuggles down beside me with no regard for my distress.
 'My god,' she whispers, 'can it get any better?'"
 By turns witty, sly and poignant, this is the unforgettable tale of one couple's holiday trip to Europe, where their wanderings through its famous capitals reveal a complicated history, both personal and political.
Publisher ‏ : ‎

 

HarperCollins Publishers (Aug. 3 2021)

Paperback ‏ : ‎

 

296 pages

ISBN-13 ‏ : ‎

 

978-1443465465