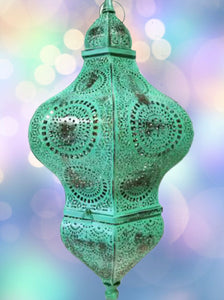 Inspired by traditional Moroccan design this handcrafted exotic piece can be hung indoors in any living space. Standard base lightbulb fitting.
Approximately 2 feet in height.
Our supplier is a skilled artisan who runs a small business from his home in Northern India. He has team of 8 Artisans who specialize in creating unique designs, making each one of them irreplaceable. 
* Handcrafted of Iron metal, includes chain for hanging
* Care: Wipe clean with a damp cloth. 
CAUTION - May become hot after use. 
* LOCAL PICK UP ONLY PLEASE