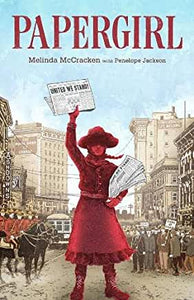 Ten-year-old Cassie lives with her working-class family in 1919 Winnipeg. The Great War and Spanish Influenza have taken their toll, and workers in the city are frustrated with low wages and long hours. When they orchestrate a general strike, Cassie — bright, determined and very bored at school — desperately wants to help.
She begins volunteering for the strike committee as a papergirl, distributing the strike bulletin at Portage and Main, and from her corner, she sees the strike take shape. Threatened and taunted by upper-class kids, and getting hungrier by the day, Cassie soon realizes that the strike isn't just a lark — it's a risky and brave movement.
With her impoverished best friend, Mary, volunteering in the nearby Labour Café, and Cassie's police officer brother in the strike committee's inner circle, Cassie becomes increasingly furious about the conditions that led workers to strike.
When an enormous but peaceful demonstration turns into a violent assault on Bloody Saturday, Cassie is changed forever.
Lively and engaging, this novel is a celebration of solidarity, justice and one brave papergirl.
Financial assistance provided by the Manitoba Arts Council.
"This is a feminist labour rights novel for middle-graders that allows history and contemporary society to mingle in a way that feels so right."

— The Feminist Bibliothecary
"Papergirl is about justice and standing up for what you believe, even when things look bleak and without hope. Such an inspiring story!"

— Maya The Book Explorer
"If you're looking for an education middle grade story then I'd pick this one up!"

— DeeReadsThings
"The (mis)adventures of teenagers Cassie Hopkins and her sidekick Mary Smith during the Winnipeg General Strike are very engaging and will appeal to many students as the serious social themes tackled in the narrative are just as relevant today as they were in 1919."

 

Paperback, 142 pages.