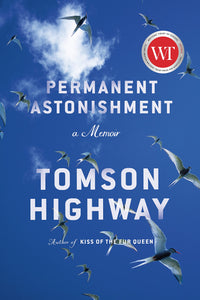 WINNER OF THE 2021 HILARY WESTON WRITERS' TRUST PRIZE FOR NONFICTION
NOMINATED FOR THE 2022 EVERGREEN AWARD

Named one of the best books of 2021 by The Globe and Mail • Winnipeg Free Press • CBC

"Exquisitely written and both hilarious and painful, Permanent Astonishment is a testament to the power of culture, language, family and the land." —Winnipeg Free Press

"Permanent Astonishment is a mesmerizing story rich in detail about growing up in a Cree-speaking family in Northern Manitoba and later in a residential school. Highway's writing delights in tales of eating muskrat tails, speaking Cree (and learning English), preparing for a Christmas concert, and listening to Hank Snow on a transistor radio. While unstinting about the abuse he and others suffered, Highway makes a bold personal choice to accentuate the wondrousness of his school years resulting in a book that shines with the foundational sparks of adolescence: innocence, fear, and amazement." —2021 Hilary Weston Writers' Trust Prize for Nonfiction jury

"Brilliant, funny, beautiful . . . Permanent Astonishment is a stirring, powerful account of finding joy on the upper side of hardship and beauty in both darkness and light. Recounted in musical English prose inflected with Cree words and concepts, it's a vision of a vanished world and a keen insight into one of Canada's most important writers." —Quill and Quire, starred review

"Tomson Highway is one of Canada's most masterful magicians when it comes to literary prose. . . . The Cree writer and playwright from Brochet, Manitoba, conjures and evokes emotions like no other. . . . The land, language and culture weave throughout his storytelling of his formative years. . . . Permanent Astonishment is many things, as much of Highway's writing tends to be. But the most impactful is that it is a road map to what matters—a moment of pause for any of us who languish in existential angst." —Winnipeg Free Press

"Permanent Astonishment propels itself wholeheartedly toward joy, whether it's the joy of the Cree language, the naughty nicknames for friends and rivals, the white-sand beaches of Reindeer Lake, of dances and school sporting events, of escaping harrowing near tragedies. . . . [Highway] write[s] with so much beautiful detail about the world that [he] was born into." —Xtra 
Tomson Highway was born in a snowbank on an island in the sub-Arctic, the eleventh of twelve children in a nomadic, caribou-hunting Cree family. Growing up in a land of ten thousand lakes and islands, Tomson relished being pulled by dogsled beneath a night sky alive with stars, sucking the juices from roasted muskrat tails, and singing country music songs with his impossibly beautiful older sister and her teenaged friends. Surrounded by the love of his family and the vast, mesmerizing landscape they called home, his was in many ways an idyllic far-north childhood. But five of Tomson's siblings died in childhood, and Balazee and Joe Highway, who loved their surviving children profoundly, wanted their two youngest sons, Tomson and Rene, to enjoy opportunities as big as the world. And so when Tomson was six, he was flown south by float plane to attend a residential school. A year later Rene joined him to begin the rest of their education. In 1990 Rene Highway, a world-renowned dancer, died of an AIDS-related illness. is Tomson's extravagant embrace of his younger brother's final words: "Don't mourn me, be joyful." His memoir offers insights, both hilarious and profound, into the Cree experience of culture, conquest, and survival.  
Publisher ‏ : ‎

 

Anchor Canada (Sept. 6 2022)

Paperback ‏ : ‎

 

352 pages

ISBN-13 ‏ : ‎

 

978-0385696227