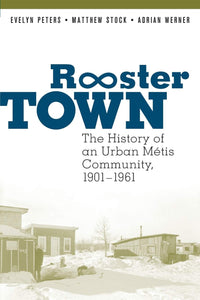 Melonville. Smokey Hollow. Bannock Town. Fort Tuyau. Little Chicago. Mud Flats. Pumpville. Tintown. La Coule. These were some of the names given to Métis communities at the edges of urban areas in Manitoba. Rooster Town, which was on the outskirts of southwest Winnipeg endured from 1901 to 1961.

Those years in Winnipeg were characterized by the twin pressures of depression, and inflation, chronic housing shortages, and a spotty social support network. At the city's edge, Rooster Town grew without city services as rural Métis arrived to participate in the urban economy and build their own houses while keeping Métis culture and community as a central part of their lives.

In other growing settler cities, the Indigenous experience was largely characterized by removal and confinement. But the continuing presence of Métis living and working in the city, and the establishment of Rooster Town itself, made the Winnipeg experience unique. Rooster Town documents the story of a community rooted in kinship, culture, and historical circumstance, whose residents existed unofficially in the cracks of municipal bureaucracy, while navigating the legacy of settler colonialism and the demands of modernity and urbanization.
Publisher ‏ : ‎

 

University of Manitoba Press; 1st edition (Oct. 16 2018)

Paperback ‏ : ‎

 

248 pages

ISBN-13 ‏ : ‎

 

978-0887558252