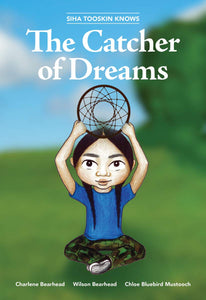 A new baby due any day AND a visit from his grandparents!
Siha Tooskin (Paul) takes his expert bike riding to a whole new level to make sure he doesn't miss a thing. At home, Mugoshin (Grandmother) is creating a very special gift to protect the precious little one. Join Paul as he enjoys delicious bannock, imagines the future of a new baby sister, and listens to Mugoshin's teachings about the catcher of dreams.
The Siha Tooskin Knows series uses vivid narratives and dazzling illustrations in contemporary settings to share stories about an 11-year-old Nakota boy.
Publisher ‏ : ‎

HighWater Press; Illustrated edition (May 26 2020)

Paperback ‏ : ‎

32 pages

ISBN-13 ‏ : ‎

978-1553798323