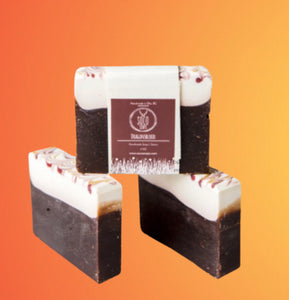 $8 each, or any three for $20! 
Dark and mysterious, sweet and sultry. this blend of amber, rose, vanilla and patchouli on a bed of musk will tickle your senses and leave you wanting to come back for another sniff. Alluring to both women and men!

*No Dragons were harmed in the making of this soap!
Ingredients: Sodium Olivate (olive oil), Sodium Cocoate (Coconut oil), Sodium Palmate (sustainable palm oil), Aqua, Fragrance, Mica, Titanium dioxide
Soco soaps are made by hand in BC, with over 50% Olive oil for its mildness, as well as Coconut Oil and Sustainable Palm. They have a large selection of soaps, some with all natural essential oil blends, and some with Phthalate free fragrances.  Essential oil soaps are 99.9% Natural, the Fragrance oil soaps are 96.1% natural.  
*Phthalate free
*Paraben free
*Sustainable
*We do not test on animals 
*Clear ingredients list. Anything in our products is on the labels.