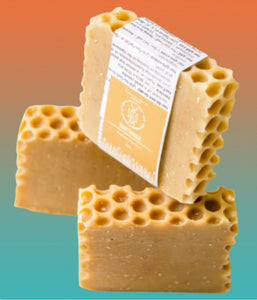 $8 each, or any three for $20! 
Aaaah. The intoxicating scent of pure local honey and oats. No additional scent needed!
Honey is known for it's antioxidant, antibacterial and moisturizing properties, Oats are known for being soothing and calming for the skin.. who wouldn't want that on their face and body!
Ingredients:  Sodium olivate (olive oil), sodium cocoate (coconut oil), sodium palmate (sustainable palm oil), Aqua, Mel, aveena sativa (oats)
Soco soaps are made by hand in BC, with over 50% Olive oil for its mildness, as well as Coconut Oil and Sustainable Palm. They have a large selection of soaps, some with all natural essential oil blends, and some with Phthalate free fragrances.  Essential oil soaps are 99.9% Natural, the Fragrance oil soaps are 96.1% natural.  
*Phthalate free
*Paraben free
*Sustainable
*We do not test on animals 
*Clear ingredients list. Anything in our products is on the labels.