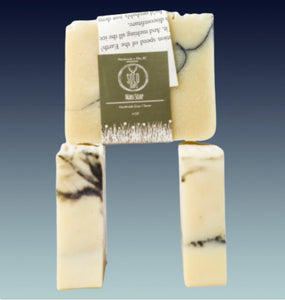 $8 each, or any three for $20! 
The Powerhouse. Rosemary, Basil, Sweet Fennel and Cedarwood paired with oodles of finely ground pumice stones make this one a super hand cleaner for those "just worked the garden after changing the oil in my dirtbike and cutting down trees with my bare hands" kind of days. Perfect for that outdoorsy (Wo)MAN in your life.
Ingredients: Sodium Olivate (Olive oil), Sodium Cocoate (Coconut oil), Sodium Palmate (Sustainable Palm oil), Aqua, Rosmarinus Officinalis (Rosemary) Oil, Ocimum Basilicum (Basil) Oil, Foeniculum Vulgare (Sweet Fennel) Oil, Cedus Atlantica (Cedarwood) Oil, Pumice, Activated Charcoal
Soco soaps are made by hand in BC, with over 50% Olive oil for its mildness, as well as Coconut Oil and Sustainable Palm. They have a large selection of soaps, some with all natural essential oil blends, and some with Phthalate free fragrances.  Essential oil soaps are 99.9% Natural, the Fragrance oil soaps are 96.1% natural.  
*Phthalate free
*Paraben free
*Sustainable
*We do not test on animals 
*Clear ingredients list. Anything in our products is on the labels