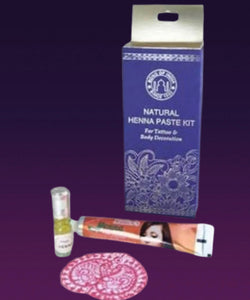 NATURAL HENNA PASTE KIT for Temporary Tattoos and Body Decoration.
Henna tattooing is an ancient Indian art of adorning the hands and feet with intricate designs and patterns. Prepared from hand-picked henna leaves of Rajasthan, the paste is completely natural and non-permanent.
Smear henna oil on the skin area to be painted. Put a desired nozzle on the henna paste tube. Start to paint using the stencil. Leave it on your skin for 1-3 hours. The longer it is kept on, the darker the colour will be. Henna design will start to fade in 10-20 days depending on your skin type.
*SONG OF INDIA NATURAL HENNA PASTE IS HARMLESS. HOWEVER, WE RECOMMEND A PATCH TEST BEFORE APPLICATION. APPLY HENNA PASTE ON A SMALL SKIN AREA FOR 60 MINUTES AND WASH OFF. IF RASH APPEARS, DISCONTINUE.
Ingredients: 
Lawsonia Unermis Extract
Stearic Acid
Cityl Alcohol
Carbomer
Sodium Picramat
Sodium Hydroxide
Pinus Palustris Oil
Preservative
Aqua