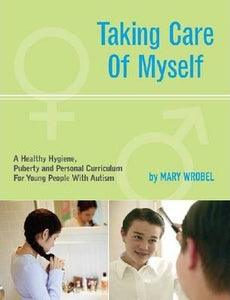 Taking Care of Myself: A Hygiene, Puberty and Personal Curriculum For Young People With Autism is a much needed resource for the autism community so that children with disabilities can learn about personal safety in a nurturing environment. I am thankful for the curriculum presented in Taking Care of Myself: A Hygiene, Puberty and Personal Curriculum For Young People With Autism, as it helps me raise two boys on the Autistic Spectrum and make sure I do not miss anything in the process that they need to know and be aware of before someone else tells them about these issues.'

- BellaOnline Reviews

'The social stories could save parents and teachers time having to write their own and reduce the stress load especially on parents in having to find the right words to address sensitive topics. Wrobel's stories are well written, using appropriate vocabulary and simple sentence structure. They are positive and affirmative; when used they will greatly reduce the anxieties experienced by young people when dealing with these sorts of issues. Both of us felt that the book would be useful for a very wide range of children and young people, not just those that fall within the Autistic Spectrum and would recommend its use in home, school and college contexts.'

- Share an Idea

Using a unique combination of social scripts and easy-to-understand activities, Taking Care of Myself provides accessible information on health, hygiene and personal safety issues for people with autism spectrum conditions or other developmental disabilities.

Presented as seven distinct units, this new curriculum covers all aspects of day to day life paying particular attention to areas that may cause confusion or distress, including illness and visits to the doctors. The authors also offer advice on puberty, appropriate sexual behaviour and `stranger danger', making this a comprehensive manual for children and adolescents from the age of five upwards.
Paperback, 250 pages