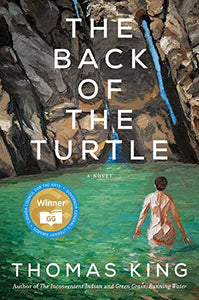 When Gabriel Quinn, a brilliant scientist, abandons his laboratory and returns to Smoke River Reserve, where his mother and sister lived, he finds that almost everyone in the community has disappeared. Even the sea turtles are gone, poisoned by an environmental disaster known as The Ruin.
The fact is, Gabriel was the chief architect of the disaster and he has come to Smoke River to witness the destruction he created and to drown himself in the sea. But as he prepares to let the water take him, he sees a young girl in the waves. Plunging in, he saves her and is soon saving others. Who are these people, with their long black hair and almond eyes, who seem to have fallen from the sky?
Showcasing King's brilliant wit and trademark wordplay, The Back of the Turtle is a funny, smart, sometimes confounding, and altogether unforgettable tale of betrayal, salvation, and the resilience of life.
Publisher: ‎Harper Collins Canada (Feb. 17, 2017)
Paperback: 528 pages
ISBN-13:‎ 978-1443431637