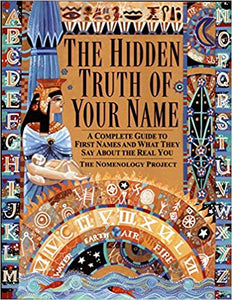 From the secret wisdom of Kabbalah, the Runes, and Numerology--an unprecedented guide to unlocking the hidden power of your name.

Your name is not only your calling card, it also may determine how your life will unfold. Mystics have studied the energies associated with names for centuries, but The Hidden Truth of Your Name is the first book to synthesize their fascinating findings into one compelling resource--offering in-depth profiles of 750 American names. Created by a team of linguistic experts and specialists, this beguiling reference guides you through the illuminating intricacies of three ancient systems of divination--and shows you how to apply them to create a subtly nuanced portrait of any name you choose.

- KABBALAH--This ancient Hebrew system of letter-and-number analysis helps you discover what the mathematics of your name adds up to in terms of work, relationships, and spiritual energies.

- THE RUNES--The letters of this old northern European alphabet, for centuries an honored source of religious and magical values, open surprising windows to self-discovery and change.

- NUMEROLOGY--The key numbers of your name contain potent truths about the positive and negative aspects of your true nature--and your destiny.

Complete with the principle colors, gemstones, and herbs that harmonize with each name, this delightfully accessible book at last gives you the means to uncover the hidden truth and unique traits of your name.
Paperback, 816 pages