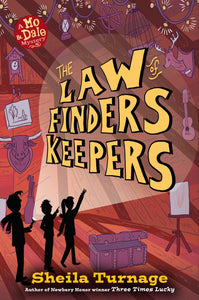 The heart-warming conclusion to the beloved Mo & Dale Mysteries by Newbery Honor author Sheila Turnage featuring the most shocking case yet!

Pirate fever sweeps through the town after an opportunistic treasure hunter shows up looking to lay claim to Blackbeard's lost gold buried somewhere in Tupelo Landing. When the (probably) world-famous Desperado Detectives--Mo and Dale and Harm--are hired by Mayor Little's mother to find the pirate loot for her, and the high-stakes race for riches is on! 

But that's not the only treasure hunt in town. Mo LoBeau unearths shocking new clues that may lead to her long-lost Upstream Mother--in the riskiest, scariest, and possibly richest case of her life. 
Will Mo find her Upstream Mother? Can the Desperados sidestep Blackbeard's curse and outsmart a professional treasure hunter? Will Dale faint under the pressure of Valentine's Day?   

Could the stakes be any higher? Yes. With twin treasures hanging in the balance, Mo, Dale, and Harm realize one of them may have to leave Tupelo Landing. For good.
Paperback, 356 pages