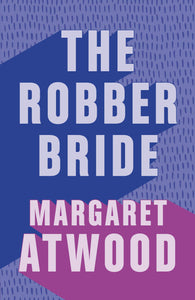 From the extraordinary imagination of the #1 

New York Times

 bestselling author of 

The Handmaid's Tale,

 comes one of her most intricate and subversive novels. Set in contemporary Toronto, 

The Robber Bride

 revolves around the lives of three fascinating women. Classmates from university, Roz, Charis, and Tony all shared the seductive and destructive experience of a past friendship with the flashy, sensuous, smart, irresistible Zenia. As the novel opens, they are twenty years past their college days and have met at Zenia's funeral, but at lunch, after the funeral, they spot Zenia—not dead at all and up to no good.
Publisher: ‎McClelland & Stewart; Trade pbk. ed edition (Oct. 3, 1998)
Paperback: ‎624 pages
ISBN-13: ‎978-0771008542